Allcargo Logistics recast on track, two demerged entities to hit the market.
"We should see the resulting entities listed on exchanges in a couple of months, subject to necessary formalities," Chief Strategy Officer of Allcargo Logistics, Ravi Jakhar, told Moneycontrol.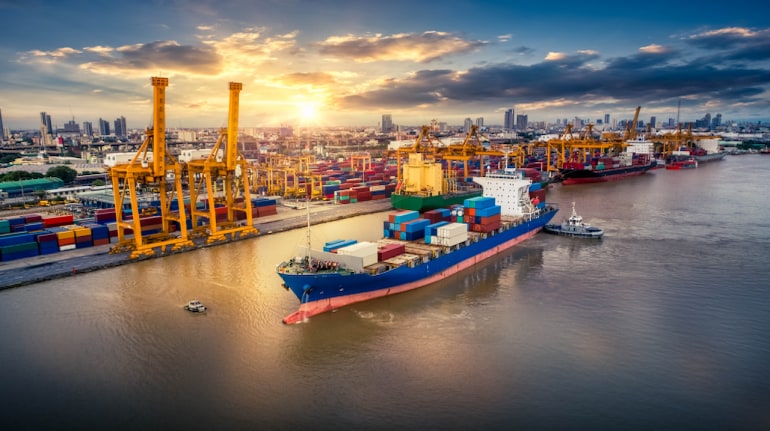 Allcargo Logistics recast on track, two demerged entities to hit the market in a couple of months
The restructuring plan of Allcargo Logistics that involves carving out two more firms is on track and the demerged companies will be listed in a couple of months, its Chief Strategy Officer Ravi Jakhar told Moneycontrol.
"The company received the certified true copy from NCLT recently. The appointed date of the scheme was April 1, 2022. The scheme will be effective once we file the copy of the order of the NCLT with the Registrar of Companies, which we expect to do very shortly," Jakhar said.
The restructuring is aimed at decluttering the organisation and making it more structured. It will also help Allcargo to adopt an asset-light model for its core business and unlock value for its demerged entities.
"We should see the resulting entities listed on exchanges in a couple of months, subject to necessary formalities," he said.
Demerger Plan ::
Post the demerger, Allcargo Logistics will be split into three listed entities-Allcargo Logistics Ltd, Allcargo Terminals Ltd (ATL) and TransIndia Realty and Logistics Parks Ltd (TRLPL).
The parent company Allcargo Logistics will lead the international supply chain solutions, express distribution, and contract logistics businesses and retain its ownership of shares in a global subsidiary, ECU Worldwide, Gati Ltd and also in the contract logistics division of Avvashya CCI.
ATL will consolidate its leadership position in the Container Freight Stations (CFS) space and continue to expand its footprint across India and abroad. The holding in Speedy Multimodes would be a part of ATL. On the other hand, TRLPL will include crane rental, logistics parks and other annuity businesses.
What analysts say
Analysts believe the demerger will create value for shareholders and simplify the structure of businesses.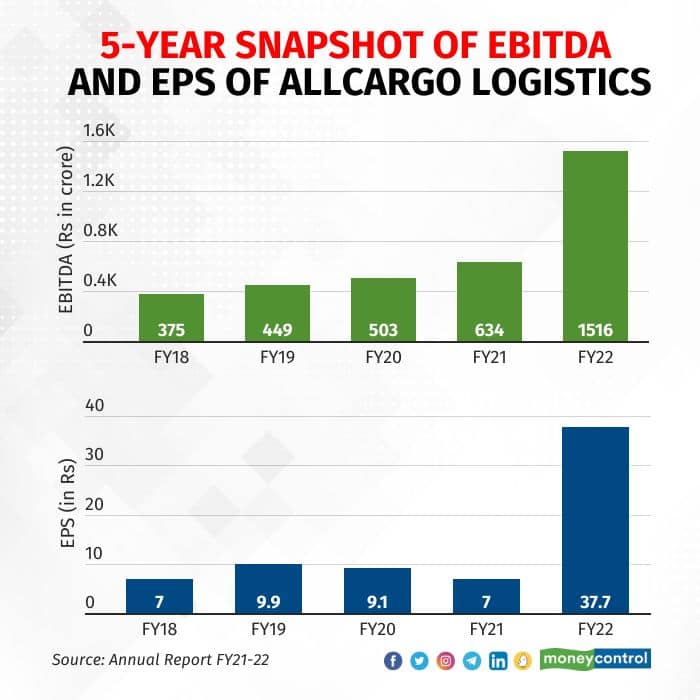 Given the capital-intensive nature of the company's warehousing business, the demerger will help clean up the balance sheet and put asset-light businesses under one umbrella, some said.
Last month, Allcargo concluded a deal to sell a part of its logistics parks business to global private equity giant Blackstone, making the company cash positive. Blackstone will own 90 percent of these logistics parks while the remaining 10 percent will be with Allcargo and held by TRLPL under the demerger scheme.
Acquisition moves
The company will buy 1.50 lakh shares, or 30 percent stake in Gati-Kintetsu Express (GKEPL) for Rs 406.71 crore. The deal includes purchasing 1.3 lakh shares (26 percent) from KWE-Kintetsu World Express (S) and 20,000 shares (4 percent) from KWE Kintetsu Express.
This deal was proposed in its board meeting on November 9, 2022. Post completion of the transaction, Allcargo will hold a 30 percent stake and Gati Ltd will continue to hold its present 70 percent stake in GKEPL, said Jakhar.
He said the company has divested non-core assets and sharpened its focus on the core businesses. Earlier this month, Allcargo acquired the remaining 38.87 percent stake of ACCI in the contract logistics arm. In February, it signed a share purchase agreement with BRE Asia Urban Holdings to acquire 90 percent equity share capital and optionally convertible debentures of Madanahatti Logistics and Industrial Parks while in January, the company bought a 75 percent stake in German cargo consolidator Fair Trade. The company also said it will sell its smaller non-core customs clearance business.
Explaining the rationale behind the company's acquisitions, Jakhar said, "The company has bought out partners in the express and contract logistics. This is in line with the company's strategy to simplify the organisational structure and expedite the growth path for our domestic supply chain endeavours. We can also expect more synergy between contract logistics and express distribution to further strengthen the group's position in the fast-growing express and contract logistics space."
These acquisitions are based on agreements signed with CCI and KWE in 2016 and 2019, respectively, he said.
Globally, Allcargo is among the leaders in (Less Than Container cargo) consolidation space with close to 15 percent market share. The international acquisitions are small bolt-on acquisitions to strengthen the company's position in key strategic markets, he said.
In today's fast-paced global marketplace, businesses need a logistics partner they can trust to handle their shipping needs efficiently and cost-effectively. That's where we come in - our logistics services offer a comprehensive range of solutions to meet your unique shipping requirements. Whether you're a small business looking to grow or a large corporation with complex shipping needs, we have the experience and expertise to help you succeed. Contact us today to learn more about our customized freight solutions and experience the difference our logistics services can make for your business.